Professional artificial grass installers serving Leicester & Surrounding Areas.
Artificial Grass for Gardens in Leicester
When it comes to artificial grass for family and domestic gardens, a few key benefits make it an attractive option. Artificial grass requires minimal maintenance, so there is no need to get the lawn mower out, water, or weed the lawn. Fake grass is stain-resistant and virtually pet-proof, so you can rest assured that your artificial turf will stay pristine. Artificial grass is becoming increasingly popular in gardens due to its low maintenance and versatility all year round.
You don't have to sacrifice style with artificial grass; artificial turf is available in many colours and lengths, so you can customize your lawn and play areas to suit your individual taste. And because fake grass does not require the same care as natural lawns, it offers all the aesthetic beauty without any of the hard work! Whether you want a lush green oasis or something more modern, artificial grass will provide you with a beautiful garden for years.
In addition, artificial grass is an environmentally friendly choice as it does not require any fertilizer or water and does not need to be cut. All these features make artificial grass an ideal solution for domestic gardens. With synthetic turf, you can enjoy the benefits of low maintenance and high aesthetics without compromising on quality. If you're looking for a solution to give your garden a perfect look without breaking your budget, artificial grass may be the option you've been searching for!
There are many ranges of artificial grass to choose from that will accommodate any budget. Contact our experts at Leicester artificial grass, who will be very happily able to show you the options we have available for you to choose from.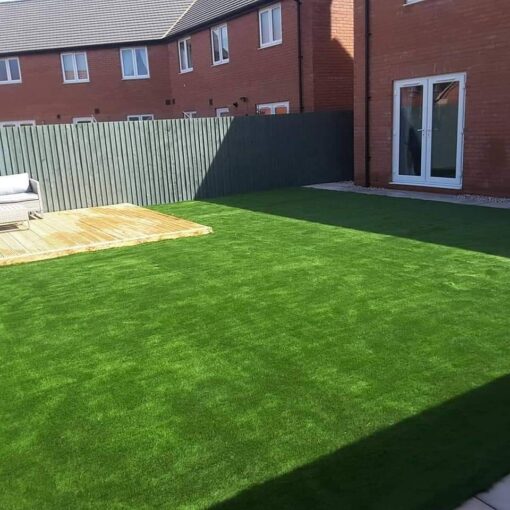 What are the benefits of installing artificial grass?
Installing artificial grass in your garden can bring numerous benefits. Artificial grass requires much less maintenance than natural grass and is incredibly durable, meaning it won't fade or need to be replaced for a long time. It also helps to minimize water usage – artificial grass does not require any watering and is 100% free of pesticides and fertilizers, making it safe for the environment.
Furthermore, synthetic turf provides an attractive look all year round; without needing to mow or trim, artificial turf will remain perfect – even during heavy rainfall! Finally, artificial turf absorbs sound more effectively than natural grass, making it ideal for busy areas with high noise levels. With all these advantages, artificial turf is an excellent option for your garden that will save you time and money in the long run.