Professional artificial grass installers serving Leicester & Surrounding Areas.
 Pet Friendly Artificial Grass
Artificial grass is fantastic for pet owners who want easy-care, low-maintenance artificial turf designed to withstand pets' wear and tear. It's much more durable than natural grass, which is why it is a popular choice for sports pitches too. It doesn't require regular mowing or fertilizers and is virtually stain resistant. Artificial grass also provides a safe playing surface for your pet that won't cause skin irritation like some fake grass products can.
With artificial grass for pets, you can enjoy all the benefits of having a lush green lawn without any hassles or mess associated with traditional lawn care. Plus, artificial grass is excellent for preventing erosion and preserving soil moisture levels in areas where other plants may struggle due to drought or extreme weather conditions. 
Dog friendly artificial grass is becoming increasingly popular with pet owners as they discover the many benefits that artificial turf can provide for their furry friends. It is an excellent choice for those who want to offer their pets a safe, comfortable place to play and relax without worrying about upkeep or maintenance requirements.
 Fake grass for dogs is also easy to clean and maintain, making it an ideal option for busy pet owners who don't have time to mow and water their lawns regularly. If you're looking for an attractive and durable artificial grass solution for your pet, fake grass may be just what you need.
Make sure to clean the artificial grass after your pet has used it and to regularly check that there are no sharp objects or pieces of artificial turf stuck in your pet's fur. With suitable artificial grass, your pet can enjoy a safe, comfortable place to play without worrying about unsightly patches of dried grass or muddy paws on your carpet. Fake grass for pets is an excellent option for busy pet owners who want to provide their furry friends with a beautiful and comfortable place to play while avoiding the hassle of regular lawn maintenance.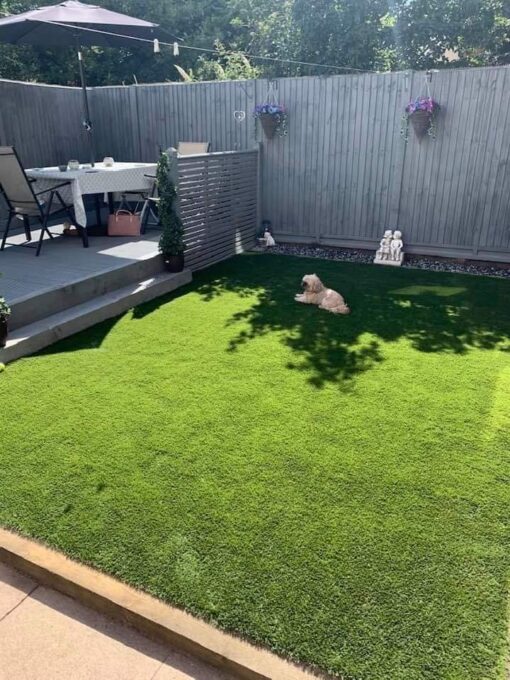 How often should I clean artificial grass with pets?
It is essential to regularly clean artificial grass with pets so that it remains in good condition and free of any pet waste. Depending on the size of your pet, you should clean the grass at least once a week. A thorough cleaning should be done every month. This will ensure that the area looks its best and that no bacteria or other dangerous germs are present. Additionally, regular cleaning can help to avoid the build-up of dirt and debris, which can be a breeding ground for pests. You should always use a mild detergent when cleaning artificial grass, and don't forget to rinse it off afterwards. This will help to keep your pets healthy and safe while they enjoy the artificial grass. With some care, your artificial grass can provide you and your pet with years of enjoyment!
 How do I stop my fake grass from smelling of dog urine?
If your artificial grass smells of dog urine, then take these steps so you can take to reduce or eliminate the odour. First, rinse off the affected area with a hose or pressure washer and then spray it with a mild detergent. This type of cleaner will break down the proteins in the urine, eliminating its odour. Sprinkle baking soda over the area for a few hours before rinsing. Additionally, make sure to regularly clean up your pet's waste as soon as possible after they go. Also, provide several areas in your garden where your dog can go so that the same spot isn't affected too often. Use Pro-Tec 125gsm Weed Membrane, which needs to be installed underneath the artificial grass. It has a mat backing that allows the urine to pass through it.
Does dog poop affect artificial grass?
Dog poop does not negatively affect artificial grass. It is an incredibly durable material that can handle almost anything you throw at it – including pet waste. Artificial grass is designed to withstand the wear and tear of pets, so even if your dog has an accident on the lawn, there won't be any lasting damage. That said, it's still essential to regularly clean up after your pet and dispose of their waste properly. Doing this will help keep the area clean and reduce odours that may develop over time.
Additionally, if the artificial grass is heavily trafficked, such as around a dog run or kennel, it may need to be replaced more frequently. Regularly maintaining the fake grass will help keep it looking its best for years. Ultimately, dog poop does not significantly affect artificial grass, and there is no need to worry about long-term damage or staining if your pup has an accident. With proper care and regular cleaning, you can keep your artificial grass looking great for the long haul.
 Artificial grass installer near me
Leicester Artificial Grass Services are your local go-to contractor for all your fake turf needs. If you searched for 'fake grass Installer Near Me 'and our site showed up, we cover your area. Please get in contact today so that we can discuss all of your needs.