Professional artificial turf installers serving Leicester & Surrounding Areas.
Artificial Turf for Football Pitches in Leicester
We specialise in artificial turf installation for football pitches at Leicester artificial grass services. Our synthetic turf is the perfect choice for sports grounds, providing a safe and durable playing surface that won't require regular maintenance or frequent replacement. We offer artificial turf products designed to replicate natural grass with realistic colours and textures, complete with an infill system that provides cushioning and shock absorption for players to reduce fatigue and improve performance.
Artificial turf is also highly resistant to wear and tear, making it ideal for high-activity sports like football. With the bonus of being easy to install and maintain, artificial turf is the perfect solution for any football pitch or other sports ground. We have installed several artificial turf football pitches for schools and universities in Leicestershire, ensuring that their sports grounds meet the highest standards for safety and performance.
 The artificial turf we install is explicitly designed to provide an outstanding playing surface suitable for professional athletes and amateurs alike. Our synthetic turf products consist of polyethene or polypropylene yarns tufted into a latex backing system, ensuring maximum durability while providing superior shock absorption and cushioning. The infill system ensures stable footing and reduces fatigue even in high-intensity sports such as football, making it perfect for any field application. The artificial turf is also UV stabilized.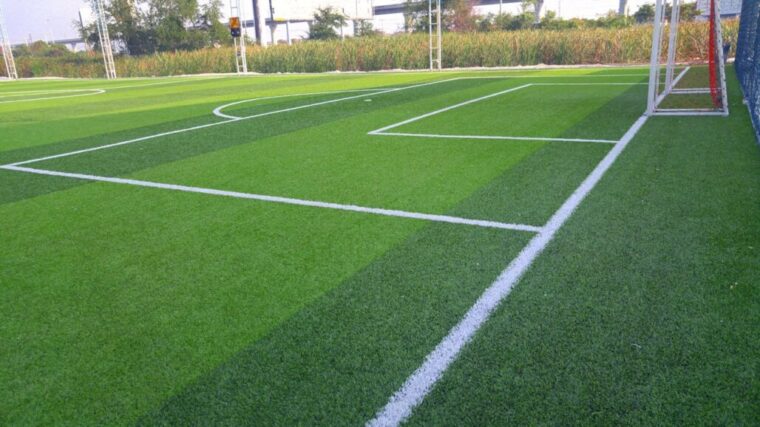 Which artificial grass is best for football?
When choosing the best artificial grass for football, you want something that is durable and provides a good grip. It should be able to handle fast-paced action and also provide good shock absorption. The playing surface must support foot rotation and balance so players can move quickly while remaining in control of their movements.
Sports pitches are typically made of synthetic turf and are designed to mimic natural grass's look, feel and performance. The fibres in artificial turf for football surfaces range from woven polyethene to rubber-filled types with textured surfaces. These fibres create an even playing surface that will withstand intense pressure while providing good traction for players.
Super C artificial turf is one of the highest standard grass models. It is produced from monofilament yarn type.
Does Premier League use artificial grass?
The answer is no. All Premier League stadiums must have natural grass sports pitches, and football pitches must be made from turf or grass. This rule has been upheld for many years, offering players a consistent and reliable surface. Artificial surfaces are often used in lower leagues and other competitions but are not allowed in the Premier League.
What's the difference between AstroTurf and artificial grass?
While both are manufactured surfaces used for sports pitches and football pitches, there are many differences between the two. Astro Turf is the name of an American subsidiary that started producing artificial turf for playing surfaces in 1960.
AstroTurf is a specific brand of short-pile artificial grass with shorter pile than regular artificial turf. The shorter fibres give it a firmer surface, making it ideal for high-impact sports like football. Fake grass, on the other hand, is composed of longer fibres that are softer and more flexible, making it well-suited for sports such as golf and tennis.
AstroTurf and artificial grass require little maintenance compared to natural turf, but AstroTurf may need more frequent replacement depending on its usage. Artificial grass typically needs to be refilled with sand every few years, while AstroTurf may need to be replaced after a certain number of high-impact hours.
Artificial grass installers near me
Leicester Artificial Grass Services are your local go-to contractor for all your fake grass needs. If you searched for 'artificial grass installers Near Me 'and our site showed up, we cover your area. We also cover Ashby de la Zouch.