Professional installers of artificial grass play areas serving Leicester & Surrounding Areas.
Artificial Grass play areas in Leicester
Artificial grass is an ideal surface for children's play areas. Not only does it create a safe, soft surface for them to play on, but it is also low maintenance and requires no watering or mowing. Fake grass can be installed quickly with minimal disruption, making it an ideal solution for busy families.
Artificial grass also provides a more comfortable play area in high-traffic areas such as public play areas, as it doesn't become bumpy like natural grass due to wear and tear over time.
Children can enjoy playing on artificial grass without fear of skin irritation or allergies caused by pollen and other allergens present in natural grass. Additionally, artificial turf is a great way to add colour and texture to play areas as they come in various shades of green and different blade thicknesses designed for other activities. This makes them perfect for creating fun and imaginative play areas that children can enjoy all year round without muddy feet coming back into your home!
With little maintenance required, artificial grass is an excellent choice for busy parents looking to create an inviting outdoor space for their children and pets. Whether you want to create a small play area in your garden or an expansive playground, fake grass is a great way to do it.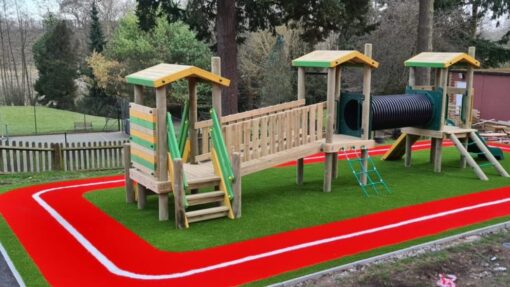 What are the benefits of fake grass for children's play areas?
Fake grass provides a safer playing surface than natural grass due to its high durability and lack of bumps or dips, which can easily cause injuries on a natural grass lawn. This makes artificial turf ideal for areas where kids play, such as playgrounds or parks, providing a safe environment to enjoy outdoor activities without worrying about potential accidents caused by uneven surfaces.
With artificial turf, you also don't need to worry about weeds or pests taking over your backyard, ensuring an even, clean-looking artificial lawn all year round. So artificial turf is the perfect choice if you're looking for a safer, low-maintenance and cost-effective solution to your garden. With its numerous benefits, artificial grass will provide an attractive and durable look that lasts with minimal effort from yourself.
What are the different children's play areas where you can install artificial grass?
Children's play areas provide a safe and secure environment to let off steam, develop their physical capabilities and cultivate creative skills. Installing artificial grass in these areas can benefit both parents and kids. Artificial grass is durable, low maintenance, aesthetically pleasing and provides excellent cushioning for falls.
Common outdoor play areas outfitted with artificial grass include public parks, schools, daycare centres, community centres and garden playgrounds. Synthetic grass can also create safe turf surfaces for sports such as soccer, tennis, and other games children enjoy. Artificial grass in a play area makes the space more inviting and provides a clean and safe surface for kids to play on.
Artificial Grass near me
Leicester Artificial Grass Services are your local contractor for all your Artificial turf needs. If you searched for 'Fake grass near me ' or artificial grass near me' and our site showed up, we cover your area. Please get in contact today so that we can discuss all of your needs.